Tiketti Galleria is temporarily closed from March 17th onwards due to the COVID-19 situation. For updates and a closer look on the exhibition follow us on social media. Inquieries: oona.latto@tiketti.fi



NIINA MANTSINEN - SOFT GRAFFITI III - EXHIBITION AT TIKETTI GALLERIA

Textile Artist Niina Mantsinen's works combine urban graffiti imagery and rya rug technique familiar from folk tradition in a fascinating way. From year 2009 she has produced works in collaboration with graffiti artists, which have also been raising international recognition. In addition to graffiti rya rug works, "Soft Graffiti III" exhibition at Tiketti Galleria will show Mantsinen's own designs created with a more freestyle approach.

Mantsinen creates her graffiti rya rugs using tufting technique, where a pneumatic device shoots thread through a stretched base fabric – on thought level not very far from working with a spray can. Mantsinen has described her way of working as painting with woollen thread. Before she turns the graffities into rya rugs, she contacts the original artist to ask for permission. From the Finnish street art classics e.g. ''Let me love'' stickers and artist EGS's works have previously received their woolly versions.

Seemingly opposing forms of expressions and the ideas attached to them – urban, rebellious and fast graffiti versus homely, soft and time-consuming rya – can have lots in common. Historically they have often been born without formal artistic education and traditionally the skills are passed on from one maker to another. Mantsinen feels at home in both worlds. Instead of narrow definitions, in Mantsinen's works traditions, ideas and design languages are renewed, and with them both forms of art have gained new audiences within environments where they are not usually encountered.

Niina Mantsinen (b.1986) graduated as a Designer from the Karelia University of Applied Sciences in 2010. She has taken part in many private and joint exhibitions both in Finland and abroad, e.g. South-Korea and Canada. Her works can be found in private collections as well as e.g. Vantaa Art Museum collections.


.
Upcoming exhibitions:
• Ilkka Luttinen
• Ville Vuorenmaa
Webstore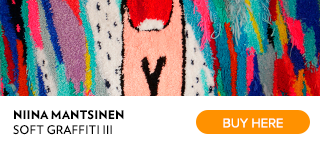 OPEN: MON–SAT 11–18
Urho Kekkosen katu 4-6, Helsinki • galleria@tiketti.fi • +358 50 4651583