19.3.2012 17:47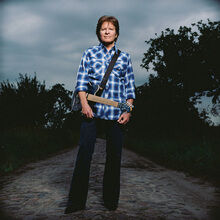 The American singer-songwriter
John Fogerty
, famous from being the leading name in CCR, is arriving to Finland this summer. Fogerty performs
on Sunday, July 1st at Piknik LIVE night at Raatti Stadion Oulu
. The Finnish rock band
Eppu Normaali
is playing support for the band members' big delight as they admit being true Fogerty fans. Also playing support is another Finnish band
Austin Mailer.
Tickets are available at Tiketti now.
John Fogerty is known as the leading figure of the Californian band Creedence Clearwater Revival (CCR) in the 1960's and 70's. He has written for CCR for instance the classic songs "Bad Moon Rising", "Proud Mary", "Cotton Fields", "Who'll Stop The Rain" and "Rockin All Over The World". His successful solo career Fogerty started in 1973 with the album "The Blue Rangers". His solo records have sold over three million pieces.
Sun 1.7.2012 Oulu, Raatti Stadion
Tickets from 70,50 € (standing places)
, no age limit
Our service and delivery fees will be added to the ticket price. Get acquinted with Tiketti's service fees
here
.
---