Hyvinkään kauppatori, Hyvinkää
Wed 10.07.2013 - Sun 14.07.2013
Price 10-90 €
No age limit / Age limit 18
Hevisaurus (Sat 13.7. klo 13:00) has no age limit.
Cheek (su 14.7. klo 17:00) gig has no age limit, separate bar area.
Otherwise event is K-18.
Etrance once a day with one day tickets.
2- and 4 -day tickets will be chanced to wristbands at the gates.
Gates open
Wed 17:30
Thu 17:30
Fri 17:30
Sat 13:00 (Hevisaurus)
Sat 17:30
Sun 17:00
See programme.

Tickets available

Some tickets available

Only a few tickets available

All tickets reserved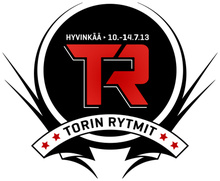 Wed 10.7. Michael Monroe, Rockstar, Amorphis, Sonata Arctica
Thu 11.7. Klamydia, Apulanta, Petri Nygård
Fri 12.7. Karri Koira, Elonkerjuu, Jonne Aaron
Sat 13.7. Hevisaurus, Elastinen, Samantha Fox, Petra, Axl Smith
Sun 14.7. Cheek