Tavastia-klubi, Helsinki
Mon 21.01.2013
Doors 20:00
Price 20 €
Age limit 18
Tickets from the door 22 €, if any left.

Tickets available

Some tickets available

Only a few tickets available

All tickets reserved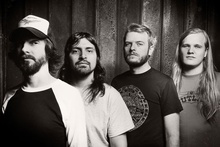 THE STONER BAND THE SWORD IN HELSINKI AND TAMPERE
The American stoner / doom band The Sword and the Norwegian psychedelic hard rock group Lonely Kamel are coming for two mutual concerts in Finland. The line-ups, insipired by the 70's heavy music, are performing at Tavastia in Helsinki on Monday, January the 21st and the next night at Klubi in Tampere. The ticket sale for both concerts begins this Wednesday, on October the 13th.

The Sword released their fourth full-length album "Apocryphonin" this month. The band has belonged in the top league of stoner music for many years now, since the band's debut "Age of Winters" came out in 2006. Earlier The Sword has performed live in Finland only in 2007, in the company of Clutch at Nosturi.

The other main star at the shows is the hard rock and heavy blues band Lonely Kamel. Only a few years old group has already released three albums, out of which the latest, "Dust Devil", came out a year ago. Also, for both concerts will be added yet another performer.