Sold Out
Nosturi, Helsinki
Fri 07.12.2012
Doors 18:30
Price 35 €
no age limit
Cloakroom fee of 2,5 euros will be charged at the door.
Separate bar area (age limit 18).

Tickets available

Some tickets available

Only a few tickets available

All tickets reserved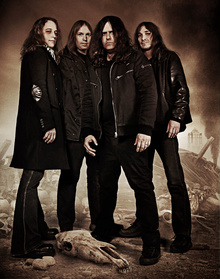 kreator-terrorzone.de
www.morbidangel.com
www.nile-catacombs.net
www.myspace.com/fueledbyfire
The German trash veteran Kreator and the American death metal legend Morbid Angel are coming for a concert together in Helsinki in December. Other performers for the night are the American bands Nile and Fueled by Fire. The show takes place at Nosturi on Friday, December the 7th and the ticket sale begins next Monday, July the 9th.

During their long career, Kreator has released 13 studio albums, two EPs, one live album and three compilation albums. The newest album, "Phantom Antichrist", was released just last month so the band is arriving with completely fresh material. Morbid Angel has also been around for a while, since the 80's and the band released their latest awaited album "Illud Divinum Insanus" in 2011 after 8-year long break in record releases.